This past weekend, I took the back roads up to Keeseville, NY, about 120 miles up the Hudson River right next to Lake Champlain in the beautiful Adirondacks. The occasion was a Solstice Mixer hosted by the Greenhorns, an awesome organization of and for young farmers. I had a great time, met a ton of awesome young farmers, toured three great new farms cooperating in really inspiring ways, and learned some great stuff. For once, I made myself take pictures so I would have something to show for the weekend. Click through the slideshow below for a blow-by-blow of the weekend!

The stunning Ausable Chasm, just down the Ausable River from Keeseville. That red and yellow dot is three kayaks getting ready to lauch, and I watched them paddle upstream to the base of the falls, then take some great rapids just below the bridge.
We started our tour de farms at Fledging Crow Farm, a CSA and market veggie operation just outside Keeseville. One of the farmers, Ian, stands in the center, showing us his propagation greenhouse.
They really pack the tomatoes into the greenhouse there, and these are actually less dense than they used to plant!
This is a nifty tool that the farm's mechanic Ryan made; it runs through a bed of carrots behind a tractor, lifting them up from below to loosen them, making harvest a breeze.
They use Eurasian Milfoil for compost - it's a highly invasive species in most lakes in North America, and he has a fried whose business goes around from lake to lake in the area pulling it out. It's a win-win-win! The lake gets invasives cleared out, his friend gets paid, and he gets free nutrient-dense compostables.
A creative way to plant for a baby mustard mix makes for a pretty picture (and I'm sure a pretty bag and a pretty plate).
He sells pea shoots, which chefs love and which fetch a high price at the market. The first step is to soak them for 36 hours.
He then lays the soaked peas thick on a bed and keeps them covered for a few days with a shade cloth. In a little over a week, they're ready to harvest and eat on a burger, in a salad, or by themselves (delicious!!).
Ryan, the farm's mechanic (far right) shows off the basket weeder he made recently. It fits on the bottom of their cultivating tractor and enables them to plant their spinach and salad mix in non-standard 4-row beds.
Why buy expensive fancy washers when you can repurpose those old tubs?!
The second farm we visited was Mace Chasm Farm, in its first year of production with beef, pork, chicken, and eggs. Asa and Courtney also use draft horses to grow some veggies that round out Fledging's CSA.
Another great example of creative recycling - a vinyl Marines banner provides some extra cover on an open-sided barn.
Asa shows off some pregnant sows, some soon-to-be-if-not-already pregnant sows, and perhaps the biggest boar I've ever seen (unfortunately, he didn't photograph well). They feed their pigs, among other things, leftover veggies from Fledging Crow and whey from the creamery that round out the tour de farm triad.
Their livestock guardian dog moves with the pigs as their electric fence moves around the woods and ditches of the farm. They tried to train him to guard the chickens as well, but he seems to think that he's a pig as well.
Courtney is a welder and butcher as well as a farmer. Right now, they take their animals a pretty long distance to the closest slaughterhouse, then bring them back and process the meat themselves in the certified kitchen of the creamery. They're currently working on their own abattoir and butcher shop, which will be an inspected and licensed facility whenever they have the money to finish the job.
About a mile down the street is North Country Creamery at Clover Mead Farm, also in its first year of production. Twice a day, twelve Jerseys hold up traffic as they come out of the pasture to be milked.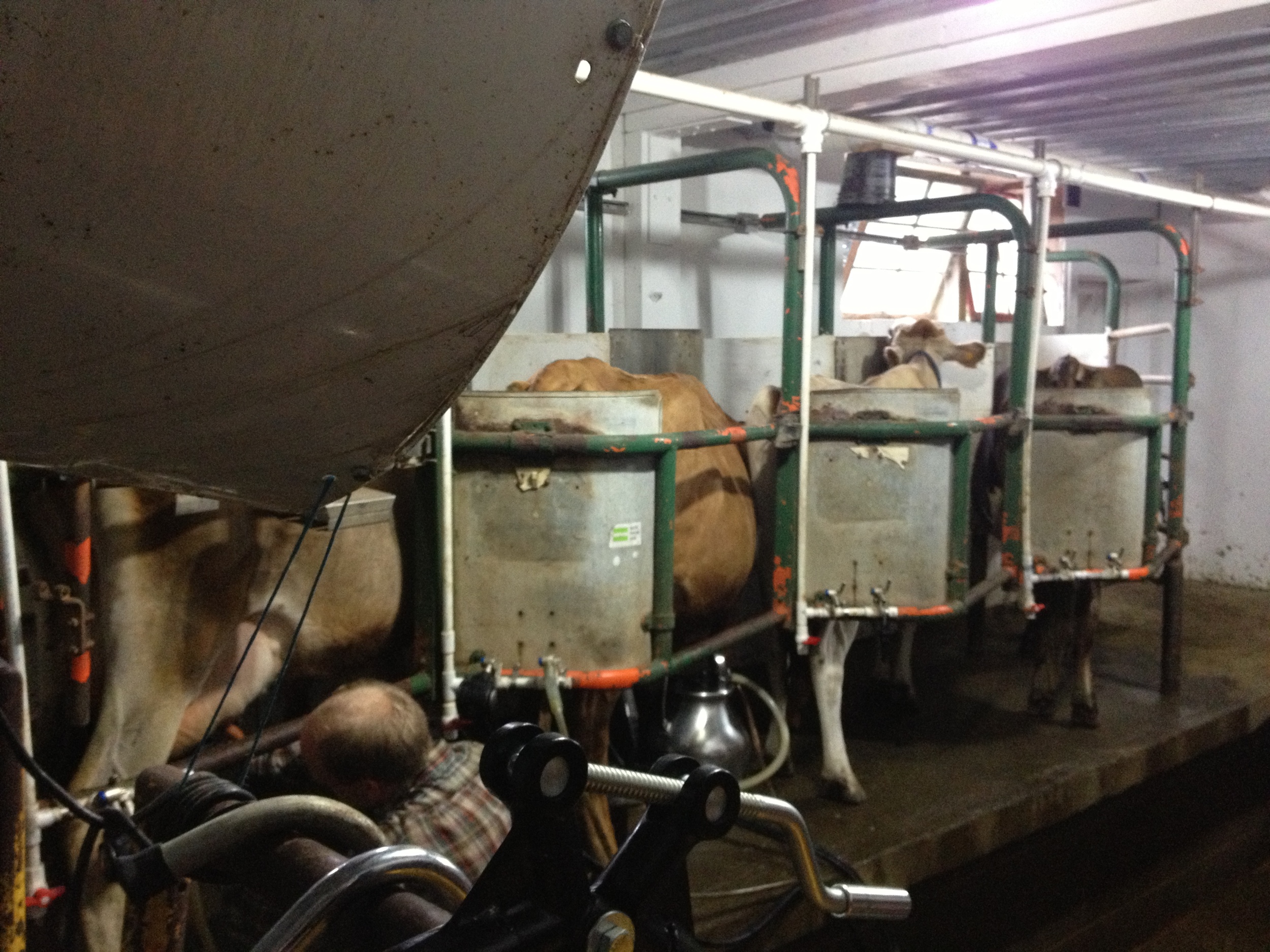 The farmer and cheesemaker, Ashlee (furthest left), has found that she can't meet the demand in her area for raw milk, cream-top yogurt, and fresh cheeses. Eventually, she'd like to be producing enough to be able to start aging some cheeses, but for now she's still in start-up mode.
Back at the Ausable Grange, we heard a talk from Eric Andrus (seated with accordion), founder of the Vermont Sail Freight Project. His vision is to have a fleet farmer-owned sail-powered barges moving goods from farms up around Lake Champlain down the Hudson to markets in New York City. He's currently finishing construction on the first barge, which will launch in July and have its maiden voyage in September. Each barge can be manned by two people, will carry about 10 tons (including pallets), and will take about ten days each way.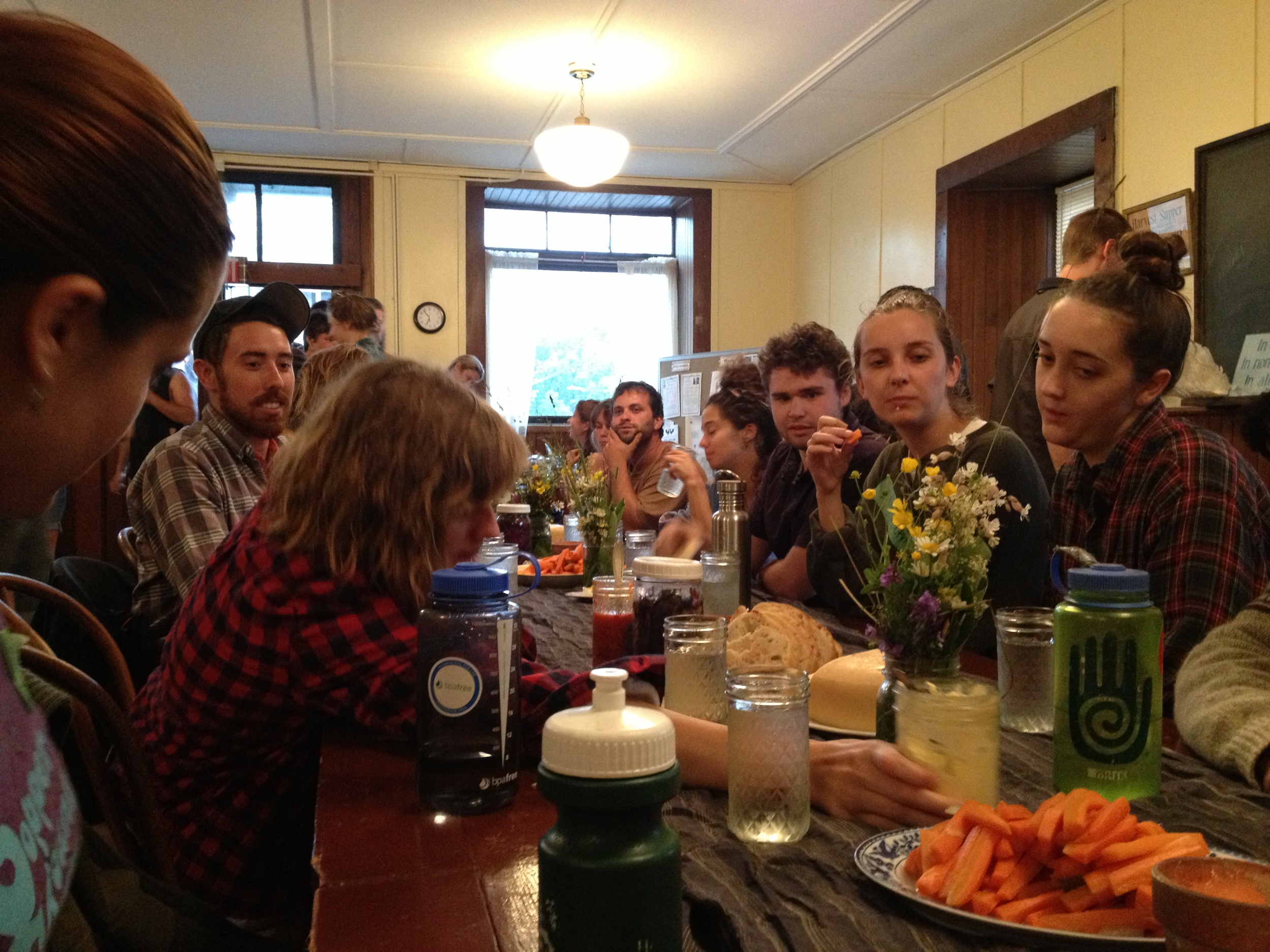 Back downstairs, we gathered for a solstice feast, with food grown by some of the farmers in attendance.
Matt, the farmer/chef for the night, thanks his kitchen help and the farmers who grew the food. Standing to his left is Severine, founder of the Greenhorns, young farmer organizing dynamo and general awesome person.
After dinner, we went back upstairs for some great farm-inspired spoken word from Tess, followed by some great old-timey string band music from Pocatello, full of farmers from the Hudson Valley.
Although it was already pretty late, the shortest night of the year was just beginning! We caravanned back to Mace Chasm Farm where we set up our tents in a far field in the pitch black before coming back to the barn for some electronic music.
The fabrication shop where Courtney and Ryan (Fledging Crow's mechanic) work provided illumination and some shelter when it started to rain intermittently.
Back up in the field, Asa started a bonfire in an old brush pile while a dance party was still raging back down in the barn.
Lured by the light on the hillside, revelers made their way up the hill (over and under some live electric fence line, by the way) to wind down by the slowly dying fire. Now well into the wee hours of the shortest night of the year, we slowly made our way to bed in our hastily-pitched tents.
Always a morning person, the dawn woke me only two hours after I fell asleep. Knowing resistance was futile, I packed up and made my way back down to the road, where I read in comfort in the back of my truck while I waited for everyone to wake up.
By the light of morning, you can hardly tell that all these tents were pitched in the pitch black of night!
At long last (8:30), breakfast! Fresh baked bread, yogurt from the cows just yards away, and last night's leftover pork sausage was incredibly satisfying after a long night.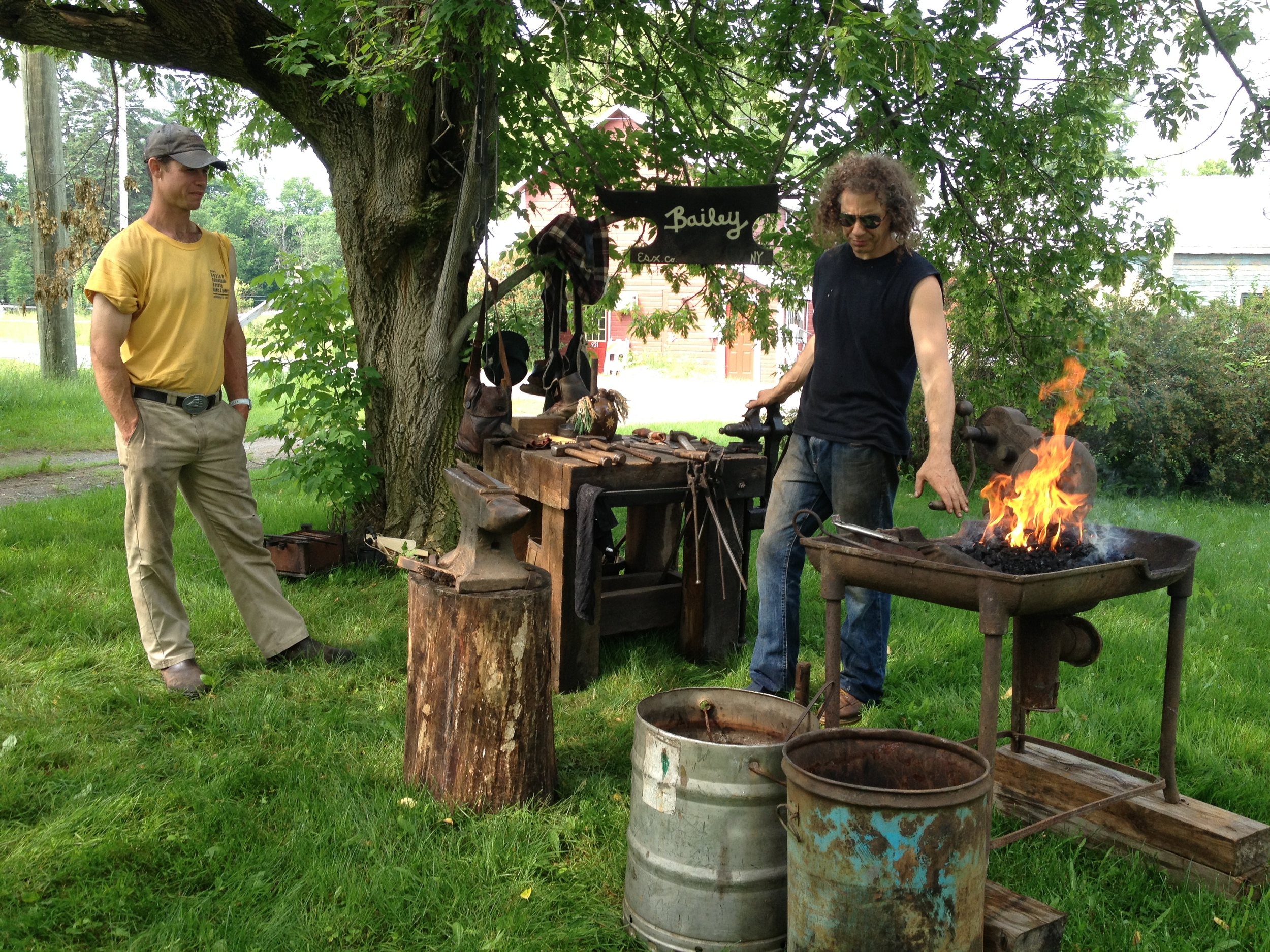 Sated, we split up for some workshops - I chose a blacksmithing demo from Russ, the local blacksmith.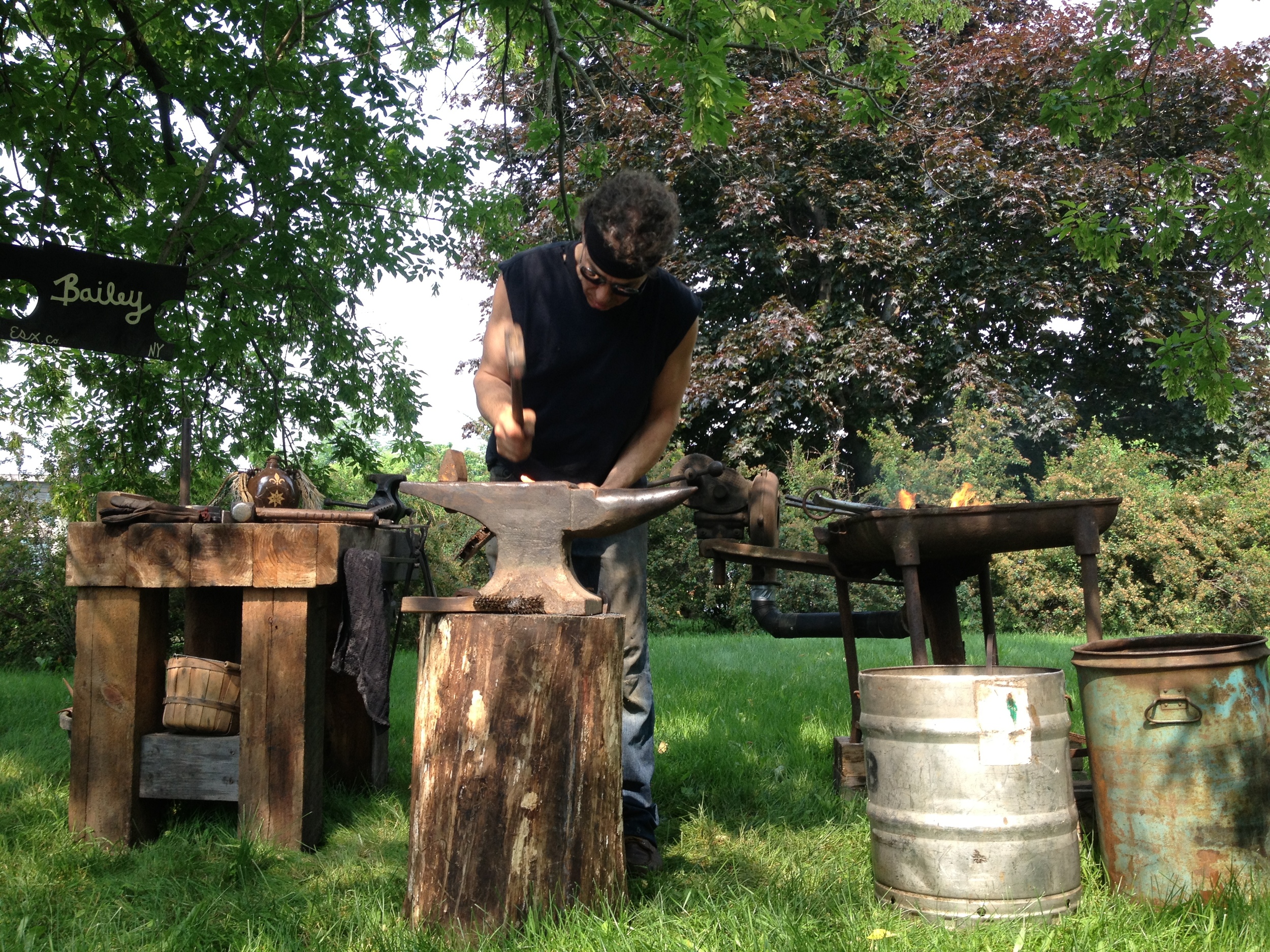 While making a knife blade from an old file, Russ enlightened us on the relative merits of different kinds of steel and iron, the ease of setting up your own small forge on a farm, and the vast superiority of old tools. A fascinating way to end a fascinating weekend.